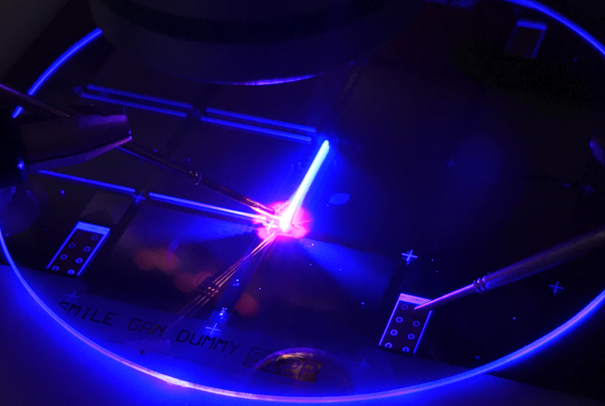 A glance at the portfolio of well-known suppliers of large, very powerful LEDs that emit on the order of several watts is enough to see that these LEDs are mostly round or square-shaped. But does that actually have to be the case? Doesn't it make sense that LEDs could also be line-shaped for specific applications?
Some of our customers had also asked us this question. Of course, we don't hesitate for long when it comes to such exciting questions. Our access to the clean room supports us in finding the appropriate answer within the shortest possible time. The answer to the question is "YES" – twice.
Yes, it can sometimes make sense to use linear microLEDs as well.
Yes, we can produce microLED lines.
The picture shows a microLED line with a width of 10µm and a length of 1000µm. Of course, processed on GaN wafers – because that is our expertise!